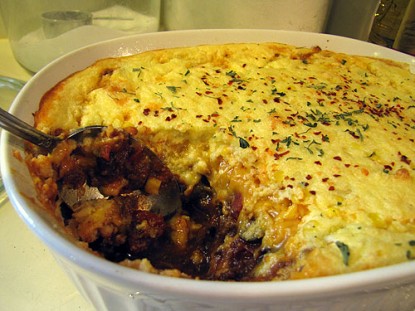 Difficulty: Easy
Servings: 10-12
Prep Time:
45 minutes
Cook Time:
40 minutes
Ingredients
1 recipe Spoon Bread (unbaked)*
2 pounds ground meat (any kind)
2 cups chopped peppers and/or onions**
2 15-ounce cans black beans, drained
2 15-ounce cans diced tomatoes, undrained
2 15-ounce cans tomato sauce
1-2 teaspoons garlic salt (to taste)
2 teaspoons ground cayenne, optional
2 teaspoons chili powder
2 teaspoons cumin
2 tablespoons crushed red pepper, optional
3 cups grated cheddar cheese
Directions
*Get the Spoon Bread recipe here.
**You can leave out the peppers or onions. Use a combination of both or only one. Whatever you use, make it add up to two cups. You can also add olives, etc. Whatever you like.
Prepare the spoon bread mixture and set aside in the refrigerator until needed. Brown the ground meat in a large skillet; drain grease. (If using peppers and/or onions, saute them with the ground meat.) Add the remaining ingredients, seasoning to taste, except for the cheese. Simmer for about 20 minutes until the meat sauce reduces and thickens.
To prepare the tamale pie, grease a 9 x 12 pan. Spread half of the spoon bread mixture on the bottom of the pan. Spread the meat filling on top. Add the cheese. Spread the remaining spoon bread mixture over the cheese. Decorate with a bit of crushed red pepper and parsley, if you so desire. Bake at 350-degrees for about 40 minutes.
Categories: Beef, Casserole, Entertaining, Kid-Friendly, Main Dish, Potluck
Submitted by: suzanne-mcminn on April 10, 2014