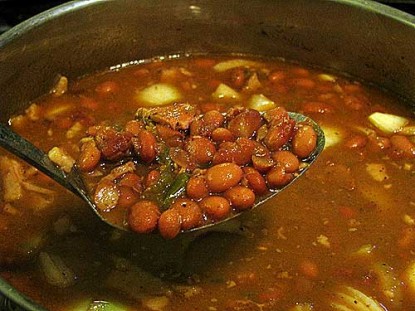 Difficulty: Easy
Servings: varies
Prep Time:
1 hour for the quick soak
Cook Time:
4-6 hours
Ingredients
5 cups dried pinto beans
ham bone, bacon slices, or bacon grease
chopped onions and peppers (optional)
seasonings as desired
Directions
To start a pot, rinse and sort the beans (unless using beans that don't require pre-soaking). You can use a colander, or you can just use the pot you're going to cook the beans in. I'm pretty lazy, so I usually don't get out the colander. Either measure out the beans if you want or just pour the beans into the pot straight out of the bag.
I buy beans in huge bags, so I usually scoop them out with a one-cup measure. I usually do five cups. That'll get me my first night of beans and cornbread plus some chili and refried beans later on.
Most commonly-used beans like pinto beans, white beans, kidney beans, black beans etc require soaking before cooking. There are a few types of beans that don't require soaking, such as lentils and split peas. Beans and cornbread in the country most often means pinto beans, but the same soak method applies to other types of beans that require soaking.
Long soak: Rinse and sort beans. Place beans in a large pot and cover with water. Cover with a lid. Let sit at room temperature overnight (or at least six hours).
Quick soak: Rinse and sort beans. Place beans in a large pot and cover with water. Cover with a lid and bring to a boil. Turn off the heat. Leave covered and let sit one hour. I usually do the quick soak.
After one hour, drain the water out and replace with fresh. To cook, bring the beans to a boil again then turn down to a simmer. Keep covered while cooking.
If I have a ham bone handy, it goes in the pot. Whatever meat is left on the bone will come off in tender pieces. (Remove the bone after the meat falls off, at the end of the bean cooking time.) If I don't have a ham bone handy, six slices of peppered bacon go in there. If I really have absolutely nothing, then at least some reserved bacon grease goes in. You can cut the bacon slices up before you put them in, but that's not necessary as the bacon will pretty much fall to pieces during cooking. (And yes, you put the bacon in uncooked. It will cook in the pot with the beans.)
What I put in my beans varies at times, but usually I'll put in garlic powder and chili powder for sure. Often I also put in some ground red pepper and sometimes red pepper flakes. I also usually put in a roughly-chopped onion and sometimes also some chopped fresh (or in the winter, frozen) peppers, sometimes hot, sometimes mild, depending on what I have available to me.
I like my beans to be spicy, so I go pretty heavy on the seasonings. How much you need depends on how big a pot of beans you're making, but for the size pot I made here (starting with 5 cups dry beans), I started out with a couple teaspoons each of garlic powder, chili powder, and ground red pepper (plus a chopped onion and some sliced hot peppers).
If this is your first time to make a pot of beans, season it up lightly to begin with. Later in the cooking process, when the beans get soft enough to taste, you can test it and add more seasonings if needed. As you cook beans over time, you'll get a better idea of how much and what type of seasonings suit you. Experiment!
Don't add salt until the last 30 minutes of cooking. Adding salt directly too early will make your beans tough and they'll never soften up right no matter how long you cook them. Plus, if you've got a ham bone or bacon in the pot, there's a lot of salt hiding right there. It takes time as the beans simmer for the salt from the meat to permeate the beans. You don't know how salty your pot of beans already is until you give it time. When the beans are soft and close to ready for serving, test the beans and add salt, and other additional seasonings, until you're satisfied.
A big pot of beans takes anywhere from four to six hours (or more) of simmer time. Test your beans periodically as your time will vary, from pot to pot, depending on various minor factors. If you find your water getting low in the pot, just add more. (I add it hot.) You always want the beans covered with water while cooking.
Categories: Beans, Beans, Grains & Rice, Kid-Friendly, Main Dish, Side Dishes
Submitted by: suzanne-mcminn on April 5, 2011