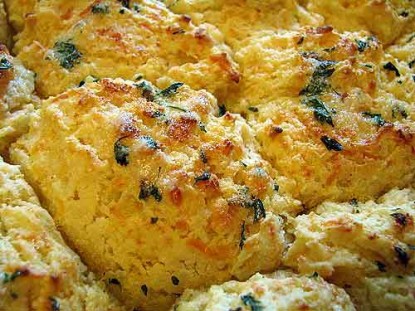 Difficulty: Easy
Servings: 20 biscuits
Prep Time:
20 minutes
Cook Time:
25 minutes
Ingredients
2 1/2 cups all-purpose flour
1 tablespoon baking powder
2 teaspoons sugar
1/2 teaspoon cream of tartar
1/4 teaspoon salt
1/2 teaspoon ground cayenne pepper
1/2 teaspoon garlic powder
1/2 cup butter, softened
1 1/4 cups grated cheddar cheese
1/2 cup sour cream
1 1/4 cups milk
plus topping
Directions
This is a Quick Mix recipe.
Note: If using a baking mix, replace first 5 ingredients with 2 1/2 cups baking mix.
Place first 5 ingredients (or 2 1/2 cups baking mix) in a large bowl. Add cayenne pepper and garlic powder. Work in the butter with a pastry cutter. Stir in cheese then add sour cream and milk. Scoop biscuit dough out by big spoonfuls and place in a greased 9 x 13 casserole pan. (Or other type of pan with an edge to it–-if you use a flat baking sheet, butter sauce will spill down into your oven.)
Topping:
6 tablespoons butter, melted
1 teaspoon garlic powder
1 teaspoon parsley
dash of salt
Melt butter. Stir in garlic powder, parsley, and a dash of salt. Spoon half of topping over unbaked biscuits. Bake at 450 degrees for 25 minutes.* After removing biscuits from the oven, spoon the rest of the topping over them.
*Your baking time may vary! I make 20 biscuits from this recipe. If you make your biscuits smaller or larger, it will change your baking time.
Submitted by: suzanne-mcminn on April 6, 2011