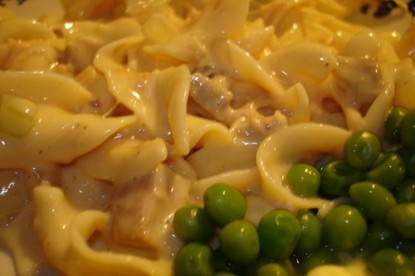 Difficulty: Easy
Servings: as many as you want to make
Ingredients
1 cup diced onion
1 cup diced celery
butter
2 or 3 cans cream of mushroom soup
Velveeta – one pound+
leftover cubed or shredded turkey (or chicken or even ham)
chicken broth
Soul Seasoning
**for a recipe for Soul Seasoning in case you can't find it in the inexpensive spice section of your store plus other discussion of this recipe, see the Attribution Link above.
Directions
In a large (preferably nonstick) soup pot, saute' about 1 cup each of diced onion & diced celery in a generous amount of butter just until barely tender. Stir in two or three cans of cream of mushroom soup (undiluted) and stir well. Add about a pound or so of Velveeta cheese, cubed. Stir mixture often over low heat until cheese is melted. Stir in desired amount of leftover cubed chicken or turkey. (use your home canned – works great!) Heat through. Season with about a teaspoon of Soul Seasoning. Add one pound of cooked & drained wide egg noodles. Thin with chicken broth as desired.
We like this with just cooked (frozen) baby peas, buttered. For some reason, they are the perfect pairing with this (my DS always adds the peas to his noodles). This is also fantastic reheated in the microwave – the leftovers are much coveted for lunches. It is easily increased if you need to feed more people by adding more soup, noodles, etc.
Try it – it's a keeper.
Categories: Crowd-Size, Kid-Friendly, Leftovers, Main Dish, One Dish Meal, Other Main Dish, Poultry
Submitted by: wvhomecanner on May 23, 2010