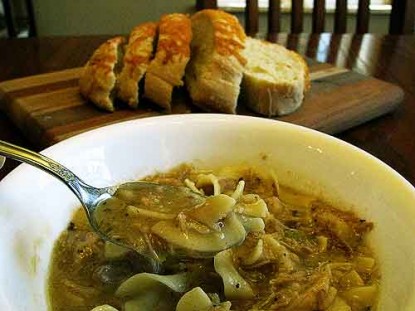 Difficulty: Easy
Servings: 8-10
Prep Time:
30 minutes
Cook Time:
2 hours
Ingredients
1 turkey carcass
2 cups turkey stock
4 cups water
2 to 3 cups vegetables of your choice (chopped celery, onion, carrots, and/or peas, green beans, diced potatoes)
1 clove minced garlic or 1/2 teaspoon garlic powder
1 teaspoon dried herbs of your choice (dill, basil, rosemary, or chives work well)
salt and pepper to taste
1/4 cup butter
1/4 cup flour
3 cups uncooked egg noodles
Directions
Bring turkey carcass with water and stock to a boil then cover and simmer one hour. Strain and remove bones and any skin, leaving the meat. Add vegetables and seasonings. I like to add about 1/2 teaspoon crushed red pepper here, too. If your family really likes spicy, consider adding a chopped jalapeno! Spicy Turkey Noodle Soup! Yum!) Simmer for another hour. Enjoy the fantastic aroma!
Melt the 1/4 cup butter in a small saucepan. Add 1/4 cup flour, and some extra pepper if you like. Stir and simmer to bubbling for a few minutes.
Spoon into your soup for thickening the broth. Add egg noodles; cover and simmer another 10 minutes.
Categories: Budget, Leftovers, Main Dish, Old-Fashioned, One Dish Meal, Poultry, Soups & Stews, Stocks
Submitted by: suzanne-mcminn on November 21, 2010