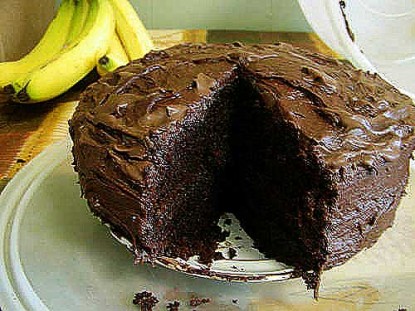 Difficulty: Easy
Servings: 10-12
Prep Time:
30 minutes
Cook Time:
350 F
Ingredients
1 3/4 cups flour
2 cups sugar
3/4 cups cocoa
1 teaspoon salt
2 teaspoon baking soda
1 teaspoon baking powder
2 eggs
1 cup buttermilk or 1 tablespoon vinegar in 1 cup of warm milk
1/2 cup oil
1 teaspoon vanilla
1 cup coffee, plain or flavored
Directions
I like to use flavored coffee in this cake and also in the frosting. Usually, I use hazelnut vanilla. But for this one I used butterscotch coffee because I had it on hand.
Combine all dry ingredients in a large bowl. Add remaining ingredients. Beat with mixer for 2 minutes. Pour into two round greased and floured pans or one greased and floured rectangular pan. The batter should be very runny.
Bake at 350 F degrees (glass dishes–approximately 325 F) for 35-40 minutes–just until a toothpick inserted in the center comes out dry. Do not over bake, but make sure it is done. This will require you to watch the cake carefully for the last few minutes of baking time, occasionally testing it until it is perfect. The key to a truly fabulous cake is to take it out of the oven at exactly the right moment.
If you know that your oven bakes hot, you can always just turn it down a smidgen. If you turn it down too far and it is baking too cool, the cake will take longer and dry out before it gets done, so be careful! If it bakes too hot, the cake will be overdone on the outside before it gets done on the inside.
When the cake is done and removed from the oven, it should cool to room temperature before frosting. I set my pans in very cold water in the sink to cool them quickly. Do not do this with glass pans!!
Never, ever frost a cake that is even slightly warm, the frosting melts! You can make a fabulous cake, come back an hour later to find the second layer sliding off and sitting beside the bottom one and the frosting all pooling in the plate. I found this out the hard way.
I use a method, not a recipe, for my frosting:
Put about 3 1/2 cups of powdered icing sugar in a large bowl. If making chocolate frosting, put about 1 cup of dry cocoa in with the sugar. Don't use an instant pudding mix in here to make flavored frosting. It doesn't dissolve. Jell-O that has been made and set might work well but I haven't tried it yet.
Add about a tablespoon of vanilla or other flavored extract unless using cocoa, then you will not need it, unless you want to add a specific flavor to chocolate frosting, like cherry. You can be creative here.
Add about 1/4 cup butter and mix it slowly on low until the butter has been fairly evenly cut into the sugar and you have a dry, lumpy mix then add liquid very slowly, a tablespoon or so at a time, until the frosting is the right texture. You can use any liquid. I used coffee to make the frosting for this cake–the same coffee that I put in the cake. The flavored coffee makes especially good frosting. I sometimes make an orange cake using fresh orange juice to make a white cake as well as the frosting. Carrot juice in the frosting for a carrot cake? If you put too much liquid in the frosting, just add a bit more sugar and mix again. Add only a tiny amount of sugar or liquid at a time until the frosting is the right texture.
Beat it on high for a few minutes, until it's well mixed. Aim for a little too stiff as opposed to a little too soft. The frosted cake will hold together better with a stiffer frosting and will slide if the frosting is too soft.
When the cake has cooled completely it is ready to be frosted. If you made a layer cake, you will need to cut the top off of the bottom layer, making it flat. Otherwise, the finished cake will slide and be slanted.
After cutting off the top of the bottom layer, spread frosting on it carefully. You don't want to tear up the cake without a top on it to protect it. Set the other layer on top of this frosted one. Continue frosting the top and sides of the cake.
I like to drizzle some melted hard chocolate on the top of a chocolate cake, and sometimes other cakes as well. I buy chocolate Easter bunnies on sale after Easter, chop them and put them in the freezer for this purpose. If they are chopped up and frozen other people don't eat them.
When I am making the frosting, I melt about 1/3 of a bunny (you will have to use your judgment here) in a glass measuring cup that I have put in a small pot of water on the stove. I add a few drops of oil to it while it is melting to make it smooth.
You will also need to stir it a lot and watch it carefully. As soon as it melts, turn the heat off. When the cake is frosted you can drizzle the chocolate in lines across the top or dot it on.
You can also make chocolate leaves with it. If you are going to make chocolate leaves, don't put much oil in the chocolate while it is melting. You want it to get really hard when it cools. To make chocolate leaves you will need some clean leaves from the garden to use as a mold. Paint the melted chocolate onto the leaf tops and let them cool until they get hard. Peel the leaf off the bottom. This should leave you with a chocolate leaf you can arrange on the top of the cake. I don't usually have the time to do this.
This cake is especially good with handmade, chemical-free black cherry wine. You can use this in the cake instead of coffee and in the frosting too, if no children are eating it. The frosting isn't cooked, so all the alcohol will remain in the frosting. Warn people before they eat it!
If you keep an apple in the container with a cake, it will help to keep it moist. It's not a miracle worker, however. If you don't keep the cake well sealed, it will still dry out.
Most cakes freeze well, too, if sealed properly. Freeze half of it if you don't think it will be eaten in a week.
Categories: Cakes, Desserts, Frostings & Icings
Submitted by: runningtrails on July 31, 2010