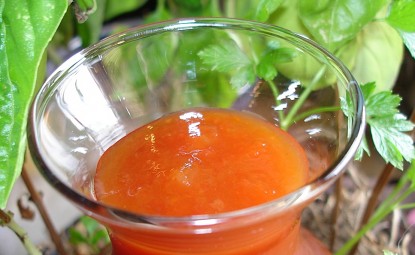 Difficulty: Intermediate
Servings: ?
Ingredients
1 peck ripe tomatoes, cut up (8 quarts cut-up tomatoes)
4 large onions, chopped
6-10 fresh peach leaves, washed
1 cup vinegar
3 cups sugar
2 Tbsp. pickling spices (tied in cloth bag)
2 Tbsp. salt (or to taste)
1 Tbsp. cornstarch (dissolved in vinegar)
1/4 tsp. cayenne pepper
1/4 tsp. turmeric
Directions
Cook tomatoes, onions, peach leaves until tomatoes are soft and juice runs free. Strain or sieve, return pulp to pot. Add vinegar, sugar, bag of spices, salt to tomato mixture. Cook until volume is reduced by 1/2. Add cornstarch*, cayenne, and turmeric. Cook until thick. Bottle and seal with wax.(NOTE: this is no longer an acceptable method to preserve – process in a boiling water bath for 15 minutes !)
*May need additional cornstarch to thicken – I now use Clearjel.
Can add some hot peppers to cooking mixture to make a spicier catsup – August 2010 I made a Jalapeno version by adding 10 medium jalapenos and two cloves of garlic to the veggies. Delicious!
Categories: Boiling Water Bath, BWB Condiments, Canning, Old-Fashioned, Preserving
Submitted by: wvhomecanner on May 8, 2010