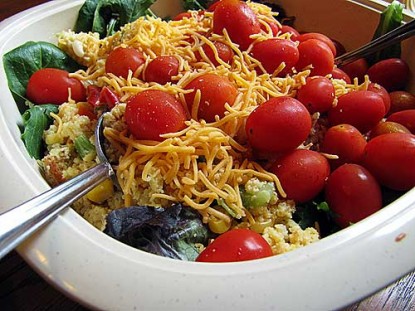 Difficulty: Easy
Servings: 10-12
Prep Time:
15 minutes
Cook Time:
none (other than baking the cornbread)
Ingredients
1 8 x 8 pan of cornbread, crumbled*
2 cups whole corn, drained
1 cup chopped celery
1 cup sliced peppers (hot or mild)
1/2 cup chopped onion
2 teaspoons seasoned salt
1 teaspoon salt
1 cup mayonnaise
1/2 cup Ranch dressing
Directions
*I use my cornbread recipe here.
Even an 8 x 8 pan of cornbread recipe can vary slightly. Adjust mayonnaise amount to your recipe.
Combine all ingredients, adjusting salt to taste. Chill before serving. (Best if chilled overnight.)
If desired, serve on a bed of lettuce and sprinkle the top with shredded cheese and cherry tomatoes.
Categories: Other Salads, Potluck, Salads, Side Dishes, Vegetarian
Submitted by: suzanne-mcminn on July 3, 2010