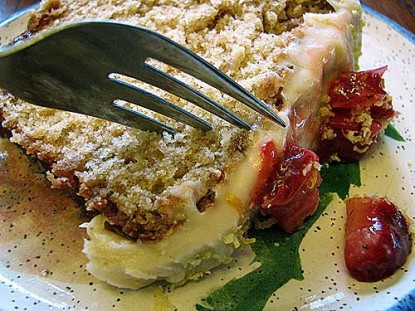 Difficulty: Easy
Servings: 12-15
Prep Time:
15 minutes
Cook Time:
90 minutes
Ingredients
1 cup butter, softened
2 cups sugar
6 eggs, whites/yolks separated
3 cups flour
1 teaspoon baking powder
1/2 teaspoon ground allspice
1/2 teaspoon ground cinnamon
1/2 teaspoon ground nutmeg
1/2 teaspoon baking soda
3/4 cup buttermilk
8 ounces strawberry jam
caramel icing
Directions
Cream butter and sugar in a large bowl. Add beaten egg yolks and mix well. Combine flour, baking powder, allspice, cinnamon, and nutmeg in a medium-size bowl. Combine buttermilk and baking soda.
FYI, if you need buttermilk and don't have it, in a pinch–place one tablespoon white vinegar or lemon juice in a measuring cup. Add milk to the one-cup line. Stir then let sit for 5 minutes. This makes a reasonable facsimile for buttermilk that works in most recipes.
Add flour/spice mixture and buttermilk/soda mixture alternatively, mixing well. Stir in the strawberry jam then fold in the egg whites. Grease a 10-inch tube pan and spoon in the batter. Bake at 350-degrees for 90 minutes. (Put aluminum foil over the top after about 40-45 minutes so it doesn't over-brown.) Cool; add caramel icing.
For the caramel icing:
1/2 cup butter
1/2 cup brown sugar, packed
1/3 cup milk
2 cups sifted powdered sugar
1 teaspoon vanilla
Melt butter over low heat in a small pot. Add brown sugar and boil for two minutes, stirring constantly. Add milk and bring to a boil again. Let cool to room temperature then add the vanilla and powdered sugar (gradually). Use more or less powdered sugar depending on the consistency desired.
I scattered fresh, chopped strawberries and grated lemon peel on top. I only iced the top and let a bit cascade down the sides.
Submitted by: suzanne-mcminn on April 4, 2011