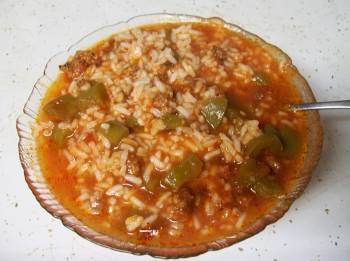 Difficulty: Easy
Servings: 4-6 people
Cook Time:
Until Green Peppers are soft
Ingredients
1 pound hamburger, browned and drained
2 large green peppers, cubed
1 can (46 fl oz) tomato juice
Black Pepper (I don't salt anything)
Cooked white rice…I usually make about 2 cups and make more if I have left over sauce.
Directions
Brown and drain hamburger in a large pot, add the chopped up green pepper, add the tomato juice. Cover the pot and bring it to a boil until the green peppers are soft. Don't over cook or the juice will evaporate.
Make whatever rice you want.
In the bowl, I put the rice and then scoop over the sauce and mix it up. For extra tang, I add some Heinz Ketchup to the bowl…sorry if that sounds gross, just how I have always eaten it.
Categories: Beans, Grains & Rice, Main Dish, Other Main Dish, Other Soups & Stews, Soups & Stews
Submitted by: nataliecyphers on January 17, 2011