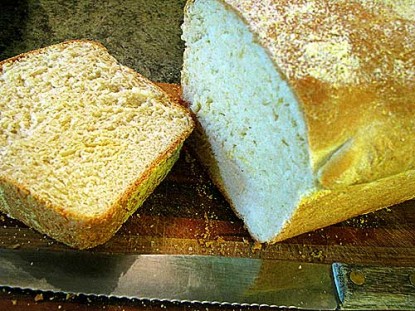 Difficulty: Intermediate
Servings: one loaf
Prep Time:
20 minutes
Cook Time:
30 minutes
Ingredients
4 cups all-purpose flour (approximately)
1 tablespoon yeast
1 1/2 cups milk
3 tablespoons butter, shortening, or lard
1 1/2 tablespoons sugar
1 teaspoon salt
cornmeal for dusting
Directions
Place 1 1/2 cups of the flour in a bowl with the yeast. In a small saucepan, heat milk, butter, sugar, and salt until butter is nearly melted. Add to flour mixture and beat with an electric mixer. Using a spoon, stir in the rest of the flour gradually and knead. Let rise, covered, in a greased bowl. Punch dough down. Grease a loaf pan and sprinkle with cornmeal. Shape dough into a loaf and place in prepared pan. Sprinkle cornmeal on top. Let rise. Bake at 350-degrees for approximately 30 minutes.
Categories: Breads, Yeast Breads
Submitted by: suzanne-mcminn on May 26, 2010