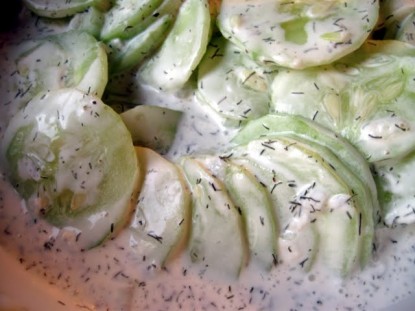 Difficulty: Easy
Servings: 6-8
Ingredients
4 large cucumbers, peeled and sliced
Water
1 tsp salt
1 small white onion, grated (small side) – juice and all
1/2 cup sour cream
1/4 cup real mayo
2 tsp vinegar
1 Tbsp lemon juice
1 tsp sugar
1 Tbsp dill
1/4 tsp fresh cracked black pepper
Dash cayenne pepper
Directions
Put sliced and peeled cucumbers in a bowl, sprinkle with salt and cover with water – refrigerate for 30 minutes.
While cucumbers are chilling, mix remaining ingredients in bowl – mix well.
Take cucumbers out of water, drain very well.
Lightly toss cucumbers and sour cream mixture.
Chill for at least one hour before serving.
Categories: Potluck, Vegetables
Submitted by: staci on May 30, 2010