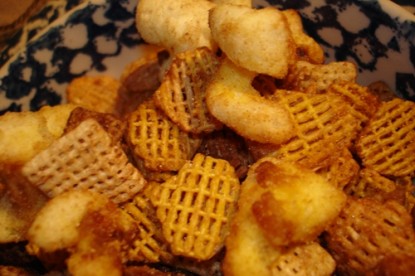 Difficulty: Easy
Servings: 16 half cup servings
Ingredients
1/4 cup sugar
1 tsp. ground cinnamon
2 cups Cinnamon Chex
2 cups Chocolate Chex
4 cups popped popcorn
1/4 cup butter or margarine
Directions
In small bowl, mix sugar and cinnamon, set aside.
In large microwavable bowl, mix cereals and popcorn.
Melt butter in a cup in the microwave and pour over cereal mixture and stir until evenly coated.
Microwave uncovered on HIgh for 1 minute, stir, microwave 1 more minute, stir.
Sprinkle with half of the sugar mixture, stir. Sprinkle with the remaining sugar mixture, stir.
Microwave 1 minute longer.
Spread on waxed paper or paper towels to cool.
Conventional oven directions:
Preheat oven to 350. Pour mixture onto greased rimmed baking sheet or 9×13 pan and bake in preheated oven for about 10 minutes or until heated through. Allow to cool completely and store in airtight container or bag.
Categories: Appetizers & Snacks, Gift Basket Goodies, Kid-Friendly
Submitted by: wvhomecanner on May 5, 2010