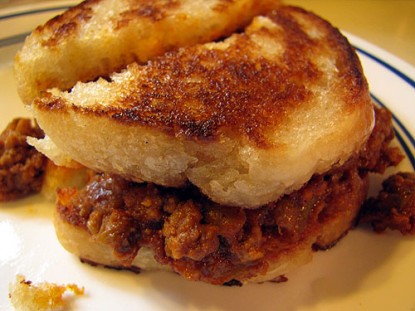 Difficulty: Easy
Servings: 4-6
Prep Time:
30 minutes
Cook Time:
20 minutes
Ingredients
1 pound ground beef, lamb, etc
1/2 to 1 cup chopped onion and/or peppers
8 ounces tomato or spaghetti sauce
2 tablespoons quick-cooking rolled oats (for thickening)
1 teaspoon chili powder
1 teaspoon garlic powder
1 teaspoon cayenne powder
hot sauce*
1/2 cup water
Directions
*Depends how hot you want it. I use 1/4 cup. You might just want a dash.
Brown ground beef with onions and/or peppers. Drain. Stir in remaining ingredients and simmer until thick as you like it and pile it between toasted or grilled bread.
Categories: Beef, Kid-Friendly, Main Dish, Sandwiches
Submitted by: suzanne-mcminn on August 21, 2013