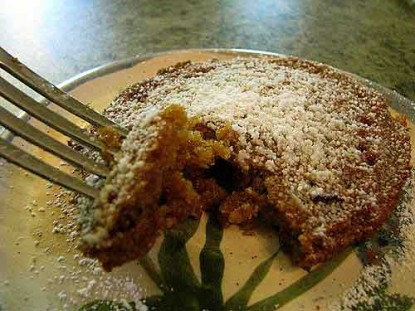 Difficulty:
Ingredients
1 cup cornmeal
1/2 cup flour
1/2 teaspoon salt
1 egg
2 tablespoons shortening (or go for it, use lard)
1 teaspoon baking powder
1/2 cup molasses
3/4 cup boiling water
1/4 cup refined white sugar, reserved
Directions
Set water on to boil in a pot while you combine the rest of the ingredients except for the reserved sugar and start your oil heating in a skillet. (Use approximately one-half inch oil and set to medium heat. I used vegetable oil.) Add the boiling water. You want a consistency similar to pancake batter, so add a bit more (or less) water if needed for your mixture. (The point of the boiling water is to melt the shortening in the batter. You might want to go ahead and boil a full cup so you have extra if needed to get your batter to the right consistency. Three-fourths cup boiling water works reliably for me.) Test a small dab in the skillet to make sure you've got it hot enough to cook quickly, but not so quickly it will burn before it cooks through or before you can turn it. Adjust your heat as necessary and taste-test the the fried dab. Sweeten to taste–add the 1/4 cup sugar if it's not sweet enough for you. Or, add half the 1/4 cup sugar and fry another dab to test; add more sugar (or molasses if you prefer to avoid refined sugar) until you're satisfied.
Fry pancake-size rounds of batter, a few minutes on each side, to a golden brown. Drain on a plate on a paper towel.
Serve immediately, warm, as a breakfast treat with a sprinkling of powdered sugar (similar to how you would serve funnel cake–the powdered sugar is entirely historically inaccurate and just for fun) and even additional syrup and fruit etc (as with pancakes). Or, serve as an easy dessert in a bowl with vanilla ice cream (again, not authentic, just a new way to serve an old-time taste). For the most authenticity, serve with no topping at all as a hand-held treat. It's simply, fabulously delicious and surprisingly tender and almost cake-like (considering the lack of milk, the absence of which speaks to the frugality of the recipe). No wonder they made up songs about it!
Categories: Breads, Other Breads
Submitted by: suzanne-mcminn on July 25, 2010