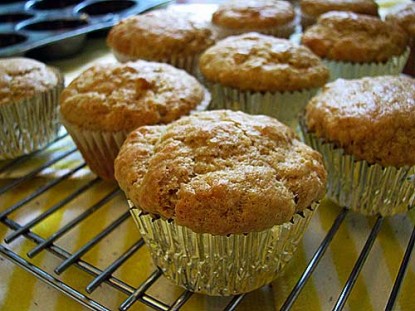 Difficulty: Easy
Servings: 15
Prep Time:
10 minutes
Cook Time:
15-18 minutes
Ingredients
3 cups Quick Mix (or other baking mix)
2/3 cup sugar
3 eggs
2/3 cup tea
1/3 cup cream or milk
1/3 cup oil
Directions
Find the recipe for Quick Mix, my homemade baking mix, here.
To mix, add sugar, eggs, tea, cream or milk, and oil all at once. Stir just till moistened (batter should be lumpy). Fill muffin cups 2/3 full. Use liners, or grease muffin tins. I'm a liner girl all the way.
Bake at 400-degrees approximately 15-18 minutes. Cool on a wire rack. Brush the tops with melted butter then sprinkle with sugar. These are wonderful with orange marmalade. Oh, what the heck. Put some clotted cream on there, too. You only live once.
*Makes about 15 muffins.
Categories: Breads, Breakfast, Muffins
Submitted by: suzanne-mcminn on July 25, 2010