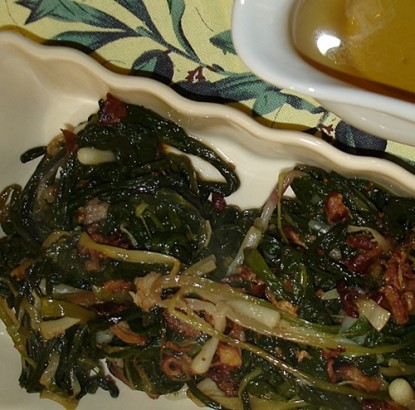 Difficulty: Easy
Servings: as many as you'd like
Prep Time:
15 min
Cook Time:
25 min
Ingredients
Ramps
Bacon pieces
Directions
Soak the ramps to loosen the soil clinging to the roots (if they are really muddy, I do this outside in a bucket, first).
Rinse several times until the water is clear.
Cut off the root ends like you would do with green onions.
Parboil the ramps in water for 15 minutes or so until the bulbs are tender.
While the ramps parboil, fry up some bacon (ends and pieces work well).
Drain away most of the bacon grease from the pan, leaving a few spoonfuls behind with the bacon pieces. Drain the ramps well. Add the drained ramps to the pan with the bacon and saute' the ramps until they are as tender as you like. The moisture from the ramps will loosen all the yummy bits from the bacon pan. Oh my.
Serve as you would any greens – I love to drizzle apple cider vinegar over mine.
Categories: Lettuce & Greens, Salads
Submitted by: wvhomecanner on April 17, 2011