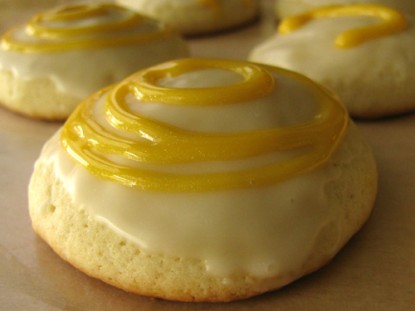 Difficulty: Easy
Servings: 5 - 6 dozen
Prep Time:
10 minutes
Cook Time:
10-12 minutes
Ingredients
3 cups all purpose flour
1/2 teaspoon baking soda
1/2 teaspoon salt
1 1/2 sticks unsalted butter, softened
1 1/2 cups granulated sugar
2 large eggs
1 tablespoon vanilla extract
2/3 cup well shaken buttermilk
Directions
Preheat oven to 350 degrees F. Line baking sheets with parchment paper or butter the pans.
Whisk together flour, baking soda, and salt. Beat together softened butter and sugar until light and creamy. Add eggs and vanilla beating until well combined. Mix in flour mixture and buttermilk in three batches until smooth. The batter will be soft and almost cake-like.
Drop level tablespoon of dough about 1-1/2 inches apart on baking sheet. Bake for 10 – 12 minutes or until cookies are lightly golden around the edges. (If using a ice cream scoop, depending upon size adjust spacing and cooking times.) Cool cookies on sheet 1 to 2 minutes. Transfer to rack.
To glaze cookies, whisk together 1-1/2 cups sifted powdered sugar, 3 tablespoons buttermilk and 1 teaspoon vanilla extract. Thin with extra buttermilk if needed. Brush onto warm or cooled cookies.
Categories: Cookies & Bars
Submitted by: rhondah on May 4, 2010