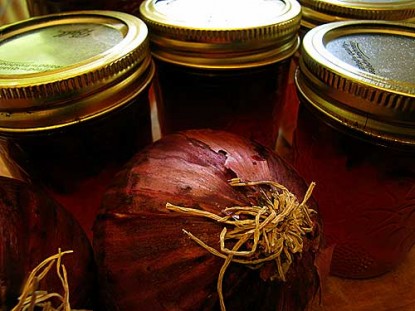 Difficulty: Easy
Servings: 6 half-pints
Prep Time:
1 hour
Cook Time:
15 minutes
Ingredients
1 1/2 cups thinly sliced, halved, peeled red onions
1/2 cup finely chopped dried cranberries
1/4 cup light brown sugar
1/4 cup cider vinegar
1 package powdered pectin
2 teaspoons grated orange peel
3 cups bottled unsweetened apple juice
4 cups granulated sugar
Directions
Saute onions, cranberries, brown sugar and cider vinegar in a skillet over medium heat, until onions are translucent. Combine onion mixture, powdered pectin, orange peel and apple juice in a large pot. Bring to a boil over medium-high heat. Add sugar, stirring until dissolved. Return to a rolling boil. Boil hard one minute, stirring constantly. Remove from heat. Skim foam if necessary. Ladle hot marmalade into hot jars, leaving 1/4-inch headspace. Adjust two-piece caps. BWB 15 minutes.
Categories: Appetizers & Snacks, Boiling Water Bath, BWB Marmalades & Conserves, Canning, Condiments, Dips, Entertaining, Gourmet, Preserving
Submitted by: suzanne-mcminn on July 29, 2010