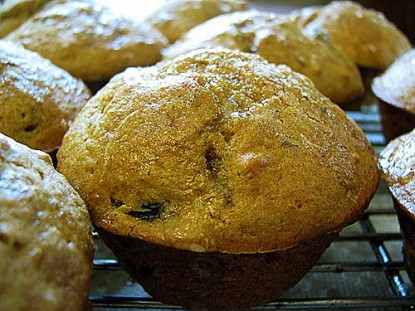 Difficulty: Easy
Ingredients
Per 1 cup of Quick Mix used, add–
3 tablespoons sugar
1 egg
1/3 cup milk
2 tablespoons oil
Directions
Add sugar, egg, milk, and oil all at once. Stir just till moistened (batter should be lumpy). Fill muffin cups 2/3 full. Bake at 400-degrees approximately 15-18 minutes. Per cup of Quick Mix, the batter makes 4-6 muffins.
But wait, there's more!
Per 1-cup batch, add 3/4 cup blueberries or other berries of your choice for berry muffins. (Fold gently into mixed batter just before filling muffin cups.)
Add 1/2 cup mashed banana and 1/4 cup chopped nuts for banana-nut muffins.
Add 1/4 cup pureed pumpkin, 1/2 teaspoon ground cinnamon, 1/2 teaspoon ground nutmeg, and 1/4 cup chopped nuts for spicy pumpkin muffins.
Use only 3/4 cup mix and add 1/4 cup oatmeal for oatmeal muffins.
For cheese and sausage or bacon muffins, leave out the 3 tablespoons sugar and add 1/2 cup shredded cheese and 1/2 crumbled sausage or bacon.
Categories: Breads, Ingredients & Mixes, Muffins
Submitted by: suzanne-mcminn on July 3, 2010