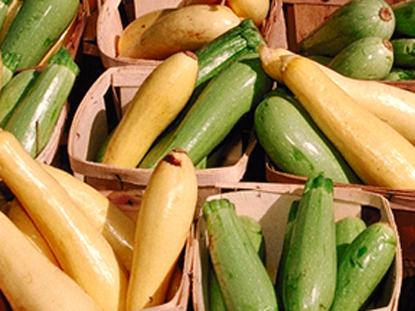 Early summer brings abundant squash – both the yellow crooknecks and zucchini.
If you have a garden, chances are it has squash in it and it's a good bet you're going to have more than you know what to do with. I thought I'd learned. We do have a small garden, but I didn't plant squash since we always get that vegetable from friends and neighbors, and that's worked well for us the last few years.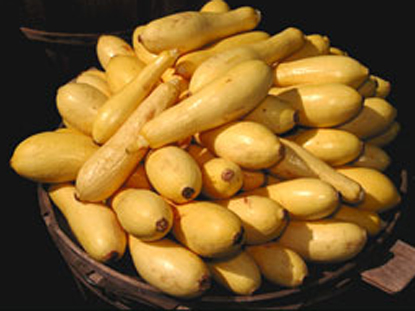 A week or so ago, one of our fellow farmer's market vendors brought us 2 and 1/2 milk crates full of SQUASH! For the goats, she said, and then as we were loading it, told me it was still perfectly good. It would ruin before they could sell it and they had more coming! Even after sharing squash with everyone we could think of, we got home with more than enough for the goats and us, too.
But what to do with it?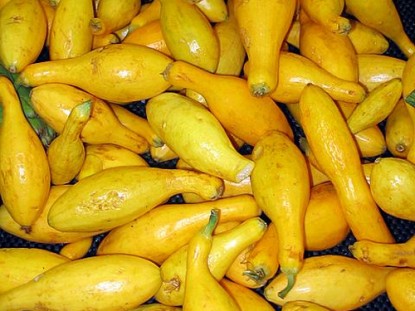 I shared my dilemma with a friend who suggested I make squash pickles. I'd never heard of squash pickles, but the Internet had! I found a promising recipe and made a few adjustments to use what I had on hand. Took a half-pint from my first batch to the squash giver and she reported that "the only thing wrong with those pickles is that the jar wasn't big enough".
So here they are! Notice that I'm even sharing my secret ingredient–yellow mustard. The recipe called for turmeric, but I didn't have any. Did you know yellow mustard ingredients are ground mustard seed (found in pickling spice), vinegar, and turmeric?!
The site where I found the original recipe said these are similar to bread and butter pickles. They are, sort of. They also say you can chop your veggies instead of slicing and make Squash Relish by using the same recipe.
How to make Squash Pickles:
2 dozen yellow crookneck squash (Any size will do, but smaller squash have less seeds.)
4 medium onions
6 sweet banana peppers, fresh, seeded and sliced into thin rings
Do not peel squash. Slice squash, onions, and pepper in thin slices. I was able to use the slicer on the side of my box grater for the squash and onions.
Add 1/4 cup salt, cover with cold water. Let stand for one hour, use ice to keep cool or refrigerate. The ice water soak gives you the crispness, don't skip this step!
When vegetables have soaked, pour into colander to drain while you make the pickling brine. In a pot large enough to hold your vegetables, combine:
4 1/2 cups sugar
4 1/2 cups vinegar
4 teaspoons celery seeds
4 teaspoons pickling spice
2 squirts prepared yellow mustard (yes, hot dog mustard)
Add all ingredients (no vegetables yet!) and boil for three minutes, stirring occasionally. Add drained squash mixture. Simmer for three additional minutes. Bring to a boil. Remove from heat and pack into hot canning jars. Top up with pickling brine, fill to 1/2 inch of top of jar with juice.
Process in a water bath. Makes 8-10 pints.


Get the handy print page and save this to your recipe box here:
Squash Pickles.
Mary J blogs at Retriever Soapworks.

Do you have a recipe post or kitchen-related story to share on the Farm Bell blog?
See Farm Bell Blog Submissions for information, the latest blog contributor giveaway, and to submit a post.

Want to subscribe to the Farm Bell blog? Go here.