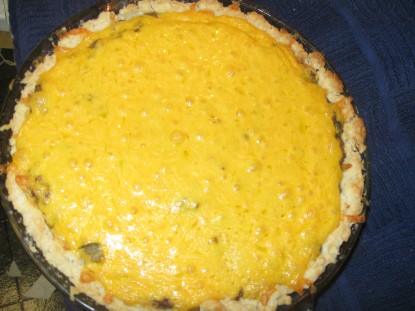 Difficulty: Easy
Servings: 8
Prep Time:
15 mins
Cook Time:
35 mins
Ingredients
1 pound ground beef, browned
1 onion, diced
3 cloves garlic, minced
1/2 tsp salt
1/2 cup dill pickle juice
1/2 cup dill pickles, chopped
2 tsp Liquid Smoke
1/3 cup all purpose Flour
1/3 cup milk
2 cups cheddar cheese, grated
Directions
Preheat oven to 425 degrees F (220 degrees C).
One Pie Crust baked in preheated oven for 15 minutes.
Add browned ground beef, onion, garlic, 1/2 tsp salt, and 1/4 cup flour.
Stir in pickle liquid, Liquid Smoke, milk, pickles, and 1 cup shredded cheese.
Spoon mixture into pastry shell.
Bake in preheated oven for 15 minutes.
Sprinkle top with remaining 1 cup cheese and bake an additional 5 minutes, until pastry is golden brown and cheese is bubbly.
Categories: Beef, Kid-Friendly, Main Dish, One Dish Meal
Submitted by: pirate96 on December 29, 2011