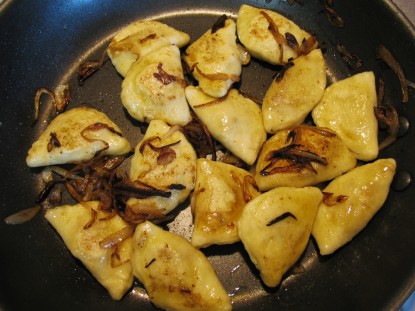 Difficulty: Easy
Servings: 50-60
Ingredients
Dough:
3 eggs
1 cup sour cream
3 cups flour
1/4 tsp salt
1 Tablespoon baking powder
Directions
Option for filling:
First, peel and boil enough potatoes to make about 3 cups of mashed potatoes, adding about 3 tablespoons of butter to the mix. Next, cook 6 pieces of bacon in a frying pan until crisp. Drain and crumble. Pour off a bit of the bacon grease and add 1/2 cup chopped onions to the remaining grease in pan. Saute onions until transparent and soft. Add onions, remaining grease, and bacon to potatoes along with 1 to 2 cups of grated cheese (depending on how cheesy you like it). Salt and pepper to taste. Refrigerate until potato mixture is cold.
Dough:
Whisk 3 eggs with 1 cup of sour cream in large bowl until smooth. In another bowl, sift 3 cups of flour, 1/4 teaspoon of salt and 1 tablespoon of baking powder together. Dump the flour mixture into the egg mixture and stir to form dough. You might have to add a bit more flour to get the mixture manageable.
Turn out onto a floured board and knead dough until dough is firm and smooth. Divide it into two pieces, and invert bowl over the top. Let dough rest for 15 minutes.
To make perogies, roll one ball of dough out to about 1/8 inch thickness. Use a biscuit cutter or a glass to cut into 3-inch rounds.
On one half of round, place mound of potato mixture.
Moisten the edge of the dough circle with water and fold in half. Make sure to seal the edges well, first pinching together and then using a fork to press around the edges for a good seal. And repeat. This recipe will make between 50-60 perogies, depending on the size you make them (and how thin you roll the dough).
When perogies are assembled, heat a pot with slightly salted water to a boil. Drop in perogies a few at a time and cook for about 3 minutes (when the perogies float to the top they're done). Remove with a slotted spoon.
There are two common ways to finish the preparation from this point. The first is simply coat in butter and serve with sour cream. The second is add them to a frying pan of onions sautéed in butter and brown them. This creates a slightly crispy finish instead of a more soft doughy finish. Both ways are good, so no matter which way you do it, you won't go wrong.
Categories: Other Main Dish, Other Side Dishes
Tags: Polish
Submitted by: citygirlfarming on June 8, 2011