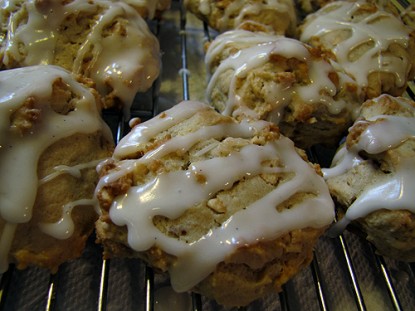 Difficulty: Easy
Servings: 2 dozen
Prep Time:
20 minutes
Cook Time:
8-10 minutes
Ingredients
1/2 cup butter, softened
1 cup packed brown sugar
1/2 cup sugar
1/2 cup sour cream
1 egg
1 teaspoon vanilla
1/2 teaspoon baking powder
1/2 teaspoon baking soda
1/2 teaspoon nutmeg
2 cups all-purpose flour
1 cup salted roasted peanuts
Directions
In a bowl combine all the ingredients except the flour and peanuts. Add the flour one cup at a time. Pound the peanuts to break them up a bit. (I use a baggie and a hammer.) Stir into cookie mixture. Scoop dough by the spoonful onto a lightly greased cookie sheet. Bake at 375-degrees for 8 to 10 minutes, depending on size of cookie. Let cool; frost with powdered sugar icing.
For the frosting–
3 tablespoons butter, melted
1/2 teaspoon vanilla
2 cups sifted powdered sugar
a couple tablespoons milk (as much as needed for drizzling consistency)
Categories: Cookies & Bars, Desserts
Submitted by: suzanne-mcminn on January 22, 2014