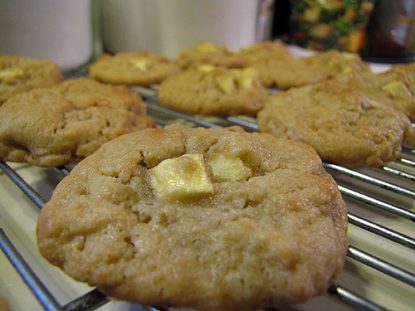 Difficulty: Easy
Servings: 3 dozen
Prep Time:
15 minutes
Cook Time:
8 minutes
Ingredients
1/2 cup butter
1/2 cup peanut butter
1/2 cup sugar
1/2 cup brown sugar
1 egg
1/2 teaspoon baking soda
1/2 teaspoon baking powder
1/2 teaspoon vanilla
3/4 cup diced fresh apple (peeled and cored)
1 1/4 cups flour
Directions
Beat butter and peanut butter together with all the ingredients except the apple and flour. Stir in apple then stir in the flour. Wrap and chill dough for about an hour or until easy to handle. Shape into balls and place on a cookie sheet. Bake at 375-degrees about 8 minutes or until lightly browned.
Categories: Cookies & Bars, Desserts
Submitted by: suzanne-mcminn on August 1, 2016