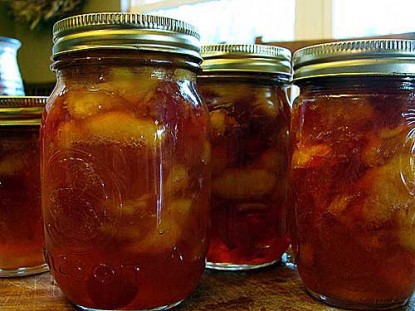 Difficulty: Easy
Servings: 4 half-pints
Prep Time:
30 minutes
Cook Time:
15 minutes BWB
Ingredients
3 tablespoons slivered orange peel
2/3 cup chopped, seeded orange pulp
2 cups chopped, pitted, peeled peaches
3/4 cup crushed pineapple
1/2 cup maraschino cherries
3 tablespoons lime juice
6 1/2 cups sugar
1/2 teaspoon salt
1/2 teaspoon ginger
1/4 teaspoon mace
1/2 cup rum*
Directions
*You can make this without the rum.
Combine orange peel and pulp with just enough water to cover in a small pot. Cook until peel is tender; set aside. Place opened bottle of rum (if using) in hot water and let sit to warm. Combine orange mixture with peaches, pineapple, cherries, and lime juice. (Drain everything first.) Add sugar and spices, stirring until sugar dissolves. Cook rapidly almost to the gelling point. Stir frequently to prevent sticking. Add hot fruit to hot jars with a slotted spoon to strain excess liquid. After filling the jars, add back liquid from the pot plus a dollop of warmed rum on top of each jar. Leave 1/4-inch headspace. BWB 15 minutes for pints and jam jars.
Categories: Boiling Water Bath, BWB Condiments, BWB Marmalades & Conserves, Canning, Preserving
Submitted by: suzanne-mcminn on April 6, 2011