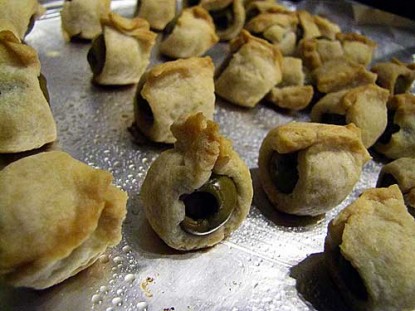 Difficulty: Easy
Servings: 40 olives
Prep Time:
10 minutes
Cook Time:
12-15 minutes
Ingredients
Pie dough for single-crust pie
pimento-stuffed olives*
Directions
*Other stuffed olives can be used, such as cheese- or garlic-stuffed olives.
Roll out pie dough as for pie. Cut in strips 1/2-inch wide and about two inches long. Place one olive inside each strip and wrap, sealing ends by pressing together. Bake at 375-degrees on a greased cookie sheet for 12-15 minutes.
Categories: Appetizers & Snacks
Submitted by: suzanne-mcminn on December 23, 2010