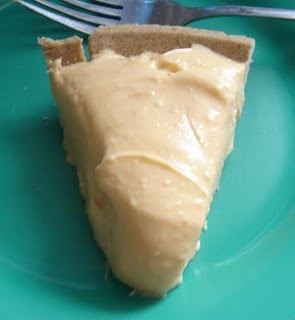 Difficulty: Easy
Servings: 6-8
Ingredients
1 can orange pop
2 bricks cream cheese, softened
1 vanilla pudding mix
1/2 cup sour cream
graham cracker pie crust
Directions
Beat together softened cream cheese and sour cream. Add pudding mix and slowly add one can of orange pop. Beat until thickened and pour into graham cracker pie crust. Chill.
If you want more of an orange pop taste, just use one brick of cream cheese, and adjust the fluid and amount of pudding mixture.
Please note the above are approximations. It's hard for me to go by exact amounts, since I'm not that kind of cook/baker. So add more pudding mix if you're trying to thicken it more, or if you need it thinner, add more pop or sour cream.
Categories: Cheesecakes, Pies
Submitted by: screamingsardine on April 13, 2011