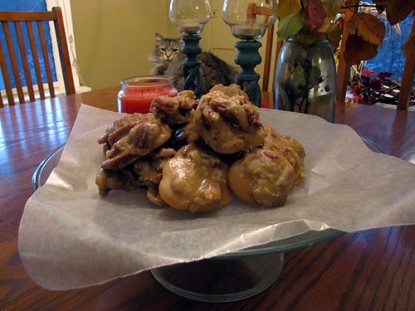 Difficulty: Easy
Servings: 1 pound
Prep Time:
5 minutes
Cook Time:
20 minutes, all together
Ingredients
1 1/2 cups sugar
1 1/2 cups brown sugar
1 cup milk
3 tablespoons butter (or margarine)
2 cups pecan halves
Directions
Butter the sides of a medium-size saucepan. Combine the sugars and milk. Clip a candy thermometer to the pan. Bring the contents to a simmering boil on medium-high heat. Once the mixture boils, lower the temperature to medium-low. Cook and stir to soft-ball stage–234 degrees. Once the mixture gets to soft-ball stage, remove the pan from the heat. Add the butter–but don't stir it in. Let the mixture cool down for a few minutes.
If you let it cool too long, it will harden into candy right in the pan. I test it every few minutes with my spoon to see if it's starting to thicken. Once you see it starting to thicken, don't waste any time adding the pecans starting to beat it vigorously with the spoon. It will look shiny at first, then start to lose the shine as it continues to thicken.
Working quickly, drop by spoonfuls onto waxed paper. Store for several weeks in an airtight container.
Categories: Candy
Submitted by: suzanne-mcminn on December 12, 2013