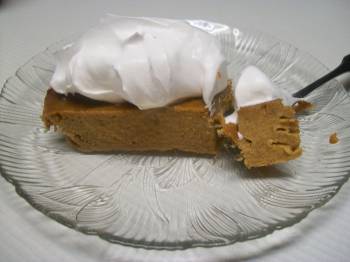 Difficulty: Easy
Servings: 8
Prep Time:
5 min
Cook Time:
55 min
Ingredients
1 can (15 oz ) pumpkin
1 can (12 oz ) evaporated milk
3 eggs
3/4 cup sugar
1 teaspoon ground cinnamon
1/4 teaspoon allspice
1/4 teaspoon ginger
1/8 teaspoon salt
1/2 cup reduced fat graham cracker crumbs
Whipped topping and additional cinnamon
Directions
In mixing bowl combine pumpkin, milk, eggs and sugar, beat until smooth.
Add spices and salt, beat until well mixed.
Stir in cracker crumbs.
Pour into a 9-inch pie pan/plate that has been coated with nonstick cooking spray.
Bake at 325 for 50 to 55 minutes or until a knife inserted near the center comes out clean.
Categories: Desserts, Holiday, Pies
Tags: Thanksgiving
Submitted by: cindyp on April 20, 2010