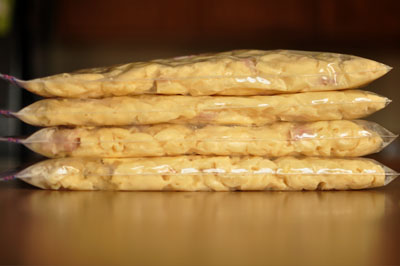 Since I have been reading on Farm Bell about some various freezer meals, I decided that I would share my family's favorite freezer meal. I don't do a whole lot of freezer cooking, although there are a couple dishes that I like to keep in the freezer. Having a meal that is already prepared comes in pretty handy on busy days where there is no time to cook a decent meal or days when I can't get up the motivation to pull a pot out of the cabinet.
This meal is a family favorite. My kids love it and my husband doesn't complain about it. I consider it a HUGE success when everyone is happy about one single main dish! I like this dish because I spend a little bit of time cooking and I get four meals out of it. Who doesn't want four nights of dinner happiness?? If you want even more happiness, you can freeze your meals in aluminum throw away pans. Freezer to oven to trash equals a nice little mini vacation for Mommy!
I was low on freezer space, so I opted to freeze my meals in zippered storage bags. It takes up less space than the aluminum pans and they thaw out a little quicker. Regardless of what container I use to freeze, I always write what is in the container and what needs to be done to get it heated. That way I don't have to hunt down the main recipe just to get dinner on the table.
So here is the much anticipated recipe!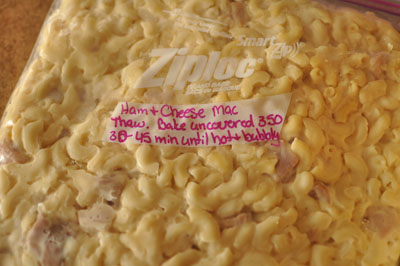 Ham and Cheese Pasta
2 16 oz packages of pasta noodles of your choice (cooked according to package directions)
1 cup butter
4 cloves garlic, minced
1 cup flour
2 tsp salt
pepper to taste
8 cups milk
2 tsp dijon mustard
8 cups shredded colby cheese
4 cups cooked ham, cut into bite sized pieces
In a LARGE pot, melt butter on low heat. Add garlic and saute about 30 -40 seconds. Add flour, salt, and pepper. Using a wisk, stir over medium heat until there are no lumps and the mixture begins to bubble. Slowly add milk, stirring entire time, and bring to a boil. Once boiling, allow to boil for one minute then add mustard and cheese. Stir until cheese is melted. Taste and adjust seasoning if necessary. Add ham and pasta stir until evenly coated. Transfer to containers. Cool and freeze.
Reheating instructions: Thaw. Preheat oven to 350. Bake uncovered for 30 to 45 minutes or until heated through and bubbly.
This recipe will make four 8 x 8 pans or two 9 x 13 pans.
If you want to get fancy. You could always add some extra cheese, bread crumbs, etc. to the top before you bake.
Get the printable and save it to your recipe box:
Ham and Cheese Pasta – Freezer Meal

Do you have a recipe post or kitchen-related story to share on the Farm Bell blog?

See

Farm Bell Blog Submissions

for information, the latest blog contributor giveaway, and to submit a post.

Want to subscribe to the Farm Bell blog?

Go here

.