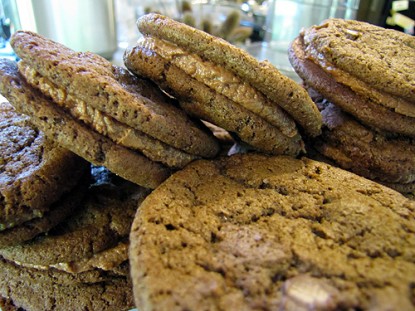 Difficulty: Easy
Servings: varies depending on size of cookies
Prep Time:
a couple hours (chilling time)
Cook Time:
10 minutes
Ingredients
1 1/2 cups all-purpose flour
1 1/2 teaspoons baking powder
1/4 teaspoon salt
12 ounces milk chocolate chips
1/3 cup butter (or margarine), softened
1 cup sugar
2 eggs
1 1/2 teaspoons vanilla
*optional–additional 6 ounces chocolate chips
milk chocolate cream filling
Directions
In a medium bowl, stir together flour, baking powder, and salt; set aside. Combine butter and sugar, beat. Melt chocolate in a small pot. Add melted chocolate, eggs, and vanilla. Beat, then add flour mixture, mixing thoroughly. Add the additional 6 ounces of chocolate chips, if desired.
Divide the cookie dough in half. Chill in two long rolls in the fridge at least a couple hours. (Can refrigerate longer, or even freeze to use later.) Slice and bake on lightly greased cookie sheets at 350-degrees about 10 minutes. (Baking time depends on size of cookies.)
Filling:
6 ounces milk chocolate chips
1/4 cup butter (or margarine)
1/2 cup sour cream, cream cheese, or heavy cream
3 – 3 1/2 cups sifted powdered sugar*
*How much powdered sugar will vary depending on what type of the cream you used and how stiff you want the filling. I like it stiff.
Melt the chocolate and butter together in a medium-size pot. Turn off the heat and stir in the cream. Add the powdered sugar to the desired consistency.
Put a big dollop (depending on cookie size) in the center of each bottom cookie (turned over). Add a top cookie and press down.
Categories: Cookies & Bars, Desserts, Kid-Friendly
Submitted by: suzanne-mcminn on May 31, 2011