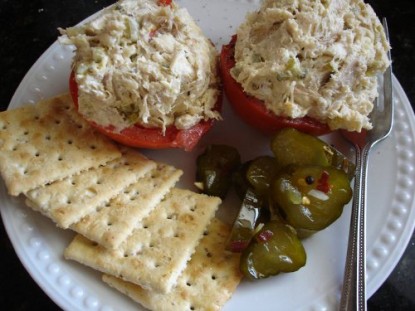 Difficulty: Easy
Servings: 5 to 6
Prep Time:
10 minutes
Cook Time:
None if using pre-roasted chicken
Ingredients
Meat from one whole roasted chicken
1/2 to 3/4 cup good quality mayo (I prefer Duke's)
1/4 to 1/3 cup sweet pickle relish
salt and pepper to taste
1 tomato per serving (homegrown if you are lucky enough to get them)
Directions
Place chopped meat from one chicken in a bowl. Mix with mayo, sweet pickle relish and salt and pepper to taste. Mix, taste, add more ingredients if necessary until you get the taste you desire.
Cut tomato in half. Scoop out center. Season both sides with salt and pepper. Stuff tomatoes with chicken salad. Serve with good crackers and pickles.
Categories: Leftovers, Poultry, Salads
Submitted by: syrupandbiscuits on May 31, 2011