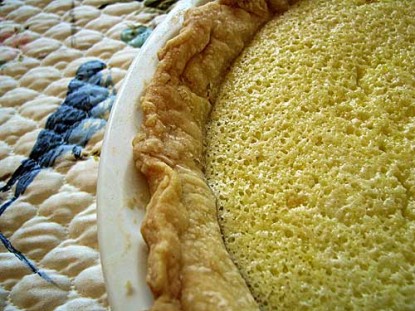 Difficulty: Easy
Servings: 8
Prep Time:
15 minutes
Cook Time:
40-45 minutes
Ingredients
one1 cup sugar
1/3 cup all-purpose flour
3 tablespoons butter, melted
1/4 teaspoon salt
2 eggs, separated
2 tablespoons lemon juice
1 teaspoon lemon peel, grated
1 cup milk
one unbaked pie shell
Directions
Combine sugar, flour, butter, salt, and egg yolks in a mixing bowl. Beat. Stir in lemon juice and peel. Add milk and beat again. Beat egg whites till soft peaks form. Fold into filling mixture. Pour filling into prepared pie shell. Bake at 350-degrees for 40-45 minutes (or till set–do the toothpick test!). Cool. Chill to store.
Note: It's best if you use fresh lemon and grated peel, but if you don't have fresh lemon, you can get away with using bottled lemon juice.
Categories: Desserts, Entertaining, Holiday, Pies
Submitted by: suzanne-mcminn on April 4, 2011