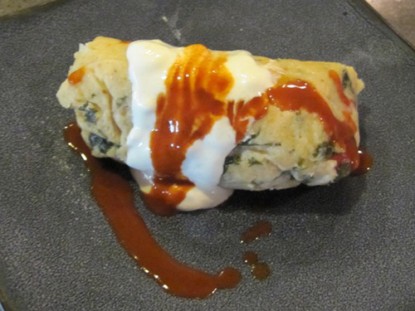 Difficulty: Easy
Cook Time:
30-45 min
Ingredients
1 bag of tamale papers
1 bag of pre-prepared masa (6-8 cups)
2 bunches of chopped cilantro (about 2 loose cups)
1 large onion, chopped
1 orange bell pepper, chopped
1 red bell pepper
Olive oil (1/4 – 1/2 cup)
Garlic powder
Cumin, coarsely ground
Cilantro/coriander seeds, coarsely ground
Chicken bouillon powder—Mazola Tomato chicken powder, if you can find it.
Optional: Meat–shredded pork or beef, cooked in Mexican seasonings.
Directions
Combine seasonings into pre-prepared masa until well mixed.
Add olive oil to taste. You could also use lard—but that's more work. LAZINESS, PEOPLE!
Squish in chopped veggies and optional meat.
Make small handfuls of mixture, and place on tamale paper. Roll up, closed-burrito-style.
Wrap up all masa mixture.
Steam for 30-45 minutes (this depends on the size/thickness of your tamales).
Remove from steamer (I used a rice cooker), unwrap, top with sour cream and salsa.
Categories: One Dish Meal, Other Main Dish
Tags: Mexican
Submitted by: laree on October 20, 2010