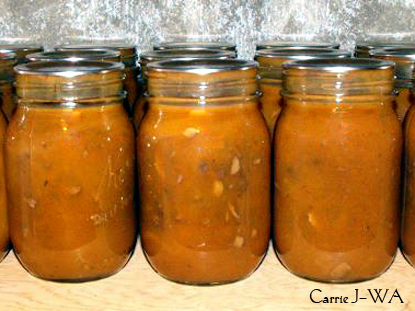 Difficulty: Intermediate
Servings: 9 pints
Ingredients
4 Tbsp. oil, divided
4 Tbsp. butter, divided
one gallon washed, trimmed and sliced mushrooms (16 cups)**
2/3 cup Clearjel
1/3 cup tomato paste
6 (14 ounce) cans beef broth
1 tsp. ground white pepper
1/2 cup Sherry Cooking Wine or Marsala
**If buying pre-sliced, this is 3 pounds
Directions
Melt together 2 Tbsp. oil and 2 Tbsp. butter in a large stockpot.
Add mushrooms, saute' 4 to 5 minutes. Remove mushrooms from pot and set aside.
Add the remaining oil and butter to the pot and melt together. Whisk in Clearjel, then tomato paste until smooth. Add broth gradually, whisking well. Continue whisking over medium heat until mixture is smooth and bubbly. Add sherry and pepper. Stir in reserved mushrooms, heat through.
Ladle mixture into hot jars, debubble, leaving 1″ headspace, cap. Pressure Can at 10 lbs. for 45 minutes (adjusted for your altitude).
Categories: Canning, Other Soups & Stews, PC Other, Preserving, Pressure Canning, Soups & Stews
Submitted by: wvhomecanner on May 5, 2010