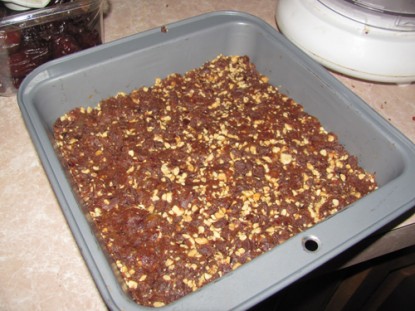 Difficulty: Easy
Servings: 8 bars
Prep Time:
30 minutes, including chill time
Ingredients
8-12 Madjool dates–If you have a Sams Membership, they carry them from the fall until after the holidays. Buy the ones found with the fresh fruit, not the bagged ones in the bulk aisles.
1 cup of nuts–I use peanuts and almonds, mostly, but any nuts will work.
1 cup of add-ins–dried cherries, dried apricots, craisins, unsweetened coconut, chocolate chips, cacao nibs, etc
Directions
Pour your nuts and your 'add-ins' into a food processor and process until they are chopped, but not decimated.
Add in your PITTED dates and process. Depending upon how sticky they are, you'll probably need between 8 and 12 of them (1 to 1-1/2 cups). You want them to glue everything together. If the mixture is crumbly, add more dates.
Press into an 8×8 pan and chill for a bit in the fridge.
Cut into about 8 bars.
I store them individually in snack-sized baggies in the fridge.
Categories: Appetizers & Snacks, Gluten-Free, Kid-Friendly
Submitted by: prvrbs31gal on October 22, 2011