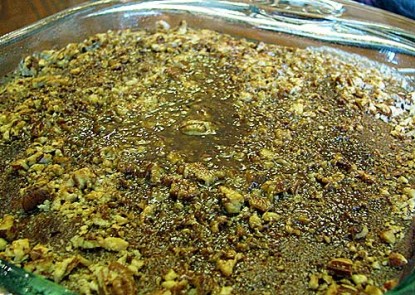 Difficulty:
Ingredients
Cake:
1 1/2 cups all-purpose flour
1/4 cup brown sugar, packed
3/4 teaspoon cinnamon
3/4 teaspoon ginger
1/2 teaspoon baking powder
1/2 teaspoon baking soda
1/2 cup shortening
1/2 cup molasses
1 egg
1/2 cup water
Nutty-Buttery Broiled Topping:
1/3 cup butter, melted
1 tablespoon brown sugar
1/4 cup pecans, chopped finely
Directions
Cake:
Combine dry ingredients in a medium-size bowl. Add shortening, molasses, egg, and water.
Using an electric mixer, beat on low till combined then beat on high for 2 minutes. Pour into a greased 8-inch square pan.
Bake at 350-degrees for 35-40 minutes, until a toothpick inserted in the center comes out clean.
Go ahead and poke holes all over the gingerbread with the toothpick so the topping can soak into the cake.
Topping:
Combine butter, brown sugar, and pecans. I always like to "chop" my nuts by pounding them inside a small baggie.
After gingerbread is baked, pour topping over the top of the cake. Place back in oven on broil for two minutes.
Categories: Cakes
Submitted by: suzanne-mcminn on March 23, 2011