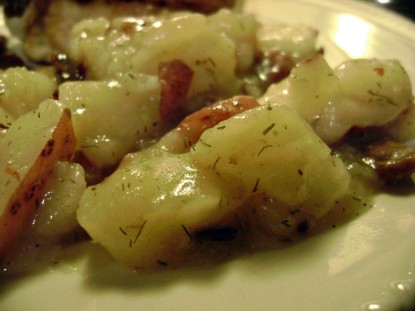 Difficulty: Easy
Servings: 8-10
Prep Time:
30 minutes
Cook Time:
10-15 minutes
Ingredients
1 qt. potatoes, boiled and sliced
1 onion, diced
1 green pepper, diced
3-5 slices bacon, cubed and fried
1 Tbsp cornstarch
1 tsp salt
1/2 tsp dry mustard
1/2 cup sugar
1 tsp celery seed
1 cup white vinegar
1 cup water
Directions
Fry bacon until crisp. Add onion and green pepper to bacon pan. Mix together cornstarch, salt, dry mustard, sugar and celery seed; add vinegar and water. Pour into bacon pan and cook until thickened. Pour thickened mixture over potatoes and let stand at least 1 hour before serving.
Categories: Crowd-Size, Entertaining, Potato Salads, Potatoes, Salads, Side Dishes
Submitted by: merng on June 11, 2010