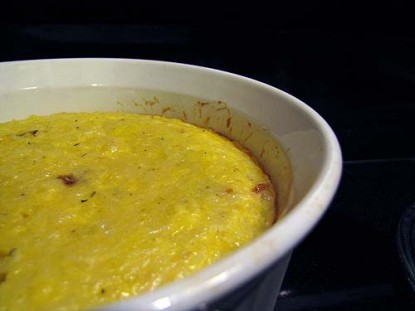 Difficulty: Easy
Servings: 6-8
Prep Time:
45 minutes, including roasting garlic
Cook Time:
30 minutes
Ingredients
2 heads garlic
olive oil
1 cup rice
1 1/4 cups water
2 egg yolks
2 whole eggs
1 cup cream or milk
1/2 cup grated Parmesan
salt and pepper
Directions
Cut the tops off the heads of garlic to reveal the cloves. Place in an aluminum foil "cup"–just enough foil to wrap the garlic. Drizzle olive oil on top of each head, wrap completely, and roast in the oven at 425-degrees for 45 minutes. When the heads are roasted, the cloves are very soft and squeeze out easily. Place in a small bowl; mash them up and set aside.
While roasting the cloves, prepare the rice. You can use any kind of rice you want. My favorite rice is an organic jasmati. And I love my rice cooker. However you cook your rice–stovetop or rice cooker–for one cup of rice, add 1 1/4 cups water. I also add about a tablespoon of olive oil while cooking. Cook until rice is fluffy and wonderful.
Transfer rice to a medium-size mixing bowl. Add the egg yolks, whole eggs, cream or milk (I recommend cream), Parmesan, mashed garlic, and salt and pepper to taste. Stir to combine. Lightly grease a 1 1/2 quart casserole dish. Transfer the mixture to the baking dish. Bake at 350-degrees for 30 minutes, uncovered.
Categories: Casserole, Entertaining, Other Side Dishes, Potluck, Side Dishes
Submitted by: suzanne-mcminn on February 19, 2014