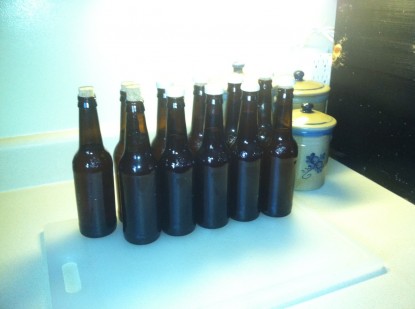 Difficulty: Easy
Servings: 11
Prep Time:
10 minutes
Cook Time:
20 minutes
Ingredients
1/4 cup raisins, coarsely chopped
6 inches vanilla bean
4 quarts of water
3 inch cinnamon stick
1 3/4 cup brown sugar greenly packed
1/4 teaspoon cream of tartar
1/8 teaspoon granulated yeast (also 1/4 cup lukewarm water
Directions
1. Place raisins in the brew pot, add the vanilla bean, 2 quarts of water, cinnamon stick and sugar. Simmer uncovered for 20 minutes.
2. Remove from heat. Stir in the cream of tartar, blending until dissolved.
3. Cover, then let cool for about 30 minutes.
4. Place 2 quarts of cool water in a 1 gallon glass jug. Add contents from brew pot, straining as you pour.
5. Place the yeast in a teacup with the 1/4 c of lukewarm water and allow to sit a few minutes
6. Verify that the temperature of the jug's contents is not hotter than lukewarm, then add the yeast water to jug.
7. Bottle-then store in a dark place.
8. Check the carbonation after 48 hours and again after 72 hours. When carbonation is right, refrigerate!
Categories: Beverages, Kid-Friendly, Old-Fashioned
Submitted by: sharon on August 2, 2012