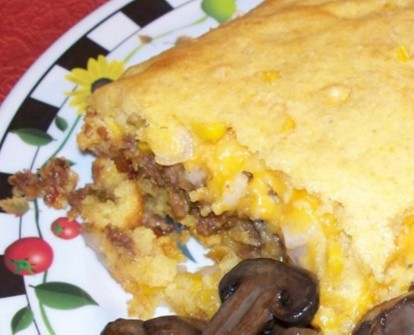 Difficulty: Easy
Servings: 6-8
Ingredients
1 box Jiffy Corn Bread Mix
1 can creamed corn
1 egg
¼ cup milk
1 lb ground chuck
1 cup shredded cheddar cheese
1 cup onions, chopped
2-3 cups Salsa (I use home canned)
1 envelope Taco Seasoning
Directions
Brown ground chuck and drain. Add water, Salsa, and Taco Seasoning and simmer for 5 minutes.
Mix together the Jiffy Corn Bread Mix, egg, creamed corn, and milk. Set aside.
In an ungreased 10×13 casserole dish, layer items as follows:
Pour ½ of the cornbread mixture and spread evenly in pan. Layer the meat mixture next. Sprinkle the onions over the meat. Sprinkle the cheese over the onions and pour remaining cornbread mixture on top.
Bake at 400* for 30 to 40 minutes.
Categories: Casserole, Main Dish
Submitted by: ptrkay on May 15, 2010