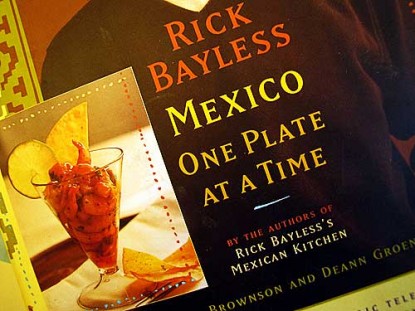 I've been purging, in case you didn't know, and while the clothes went first, many other things have followed. I'm painfully going through cookbooks now and asking myself why I have certain cookbooks I've never used. As with the clothes, often there isn't anything "wrong" with the books, it's just that I have too many and can't/don't use them. These poor babies need new homes!
I'll be giving some of these cookbooks (and other things) away here. I'm talking like new condition. I'm not giving away junk! But I'd rather one of you have it than just send it over to the thrift store, so here goes, first up: Mexico, One Plate at a Time by Rick Bayless. This cookbook is a companion to his PBS series and includes everything from authentic Mexican-style snacks and soups to main dishes and desserts (and drinks!). Sopes, chilaquiles, chile rellenos, seafood in mojo de ajo, chicken adobado, carne asada, flan, Mexican chocolate, and more. Somebody needs to make this stuff, and apparently it's not going to be me!
For a chance to win: Show me your family favorites! Whether it's a main dish, a dessert, a side, or anything else, show me what your family is loving right now. Submit a recipe then leave a comment on this post telling me the name of the recipe you submitted! You can enter multiple times for this contest by submitting more than one recipe. Leave one comment per submitted recipe for multiple chances to win.
One winner will be drawn by random comment number to receive the cookbook. Eligible entry cut-off is midnight Eastern (U.S.) time tonight (August 27). This post will be updated with the winner by 9 a.m. Eastern (U.S.) time tomorrow (August 28). Return to this post to see if you won and claim your prize.
Note: You must be registered to post a comment. Sign up (it's free!) and join us!

Interested in contributing a guest post to the Farm Bell blog? Read information here for Farm Bell blog submissions.

Want to subscribe to the Farm Bell blog? Go here.

UPDATE 08/28/10: The winning comment number, chosen by random.org, is #11, BuckeyeGirl, who posted Turkey Loaf. Email me at CITRgiveaways(at)yahoo.com with your name and address for shipping!
THIS CONTEST IS CLOSED TO ENTRY.