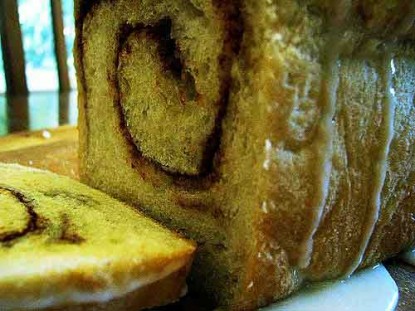 Difficulty: Intermediate
Servings: 12
Prep Time:
2 hours
Cook Time:
25 minutes
Ingredients
1 1/2 cups warm water
1 teaspoon yeast
1/4 teaspoon salt
1/4 cup sugar
3 1/2 cups all-purpose flour
2 tablespoons butter, melted
1/4 cup sugar
2 teaspoons cinnamon
Directions
For more information about Grandmother Bread, go here.
In a large bowl, combine water, yeast, sugar, and salt. Let sit five minutes. Stir in the first cup and a half of flour with a heavy spoon. Add the next cup of flour a little at a time as needed, stirring until dough becomes too stiff to continue stirring easily. Add a little more flour and begin kneading. The amount of flour is approximate–your mileage may vary! Continue adding flour and kneading until the dough is smooth and elastic. Let dough rise in a greased, covered bowl until doubled. (Usually, about an hour.) Uncover bowl; sprinkle in a little more flour and knead again.
Roll dough out on a floured surface into an approx. 12-inch by 7-inch rectangle. Brush lightly with melted butter. Combine 1/4 cup sugar and 2 teaspoons cinnamon. Sprinkle sugar-cinnamon mixture over dough. Roll up, pinching seams at bottom and ends. Place seam-side down in loaf pan. Let rise until tall and beautiful!
Bake at 350-degrees for 25 minutes. Makes one loaf. Double, triple, and so on as needed! If desired, drizzle baked bread with powdered sugar icing. (And how could you not desire?)
Powdered Sugar Icing:
Combine 1/2 cup sifted powdered sugar, 1/4 teaspoon vanilla, and enough milk (one to two teaspoons) for drizzling consistency.
Watch it disappear as fast as you can take it out of the oven and slice it!
Note: To make Cinnamon-Swirl Raisin Bread, add one cup of raisins to the water-yeast mixture as with Raisin Bread.
Categories: Breads, Breakfast, Holiday, Yeast Breads
Submitted by: suzanne-mcminn on July 27, 2010