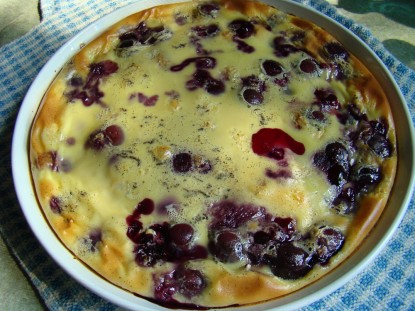 Difficulty: Easy
Servings: 8-10
Prep Time:
15 minutes
Cook Time:
60 minutes
Ingredients
10 inch tart dish
butter to rub your dish with
1 to 1 1/2 lb black cherries, stems off, pits in. Yes, in.
3 T flour
1/2 tsp salt
1/4 cup sugar
4 eggs [You can get by with 3 if you have to.]
2 cups milk
1 vanilla bean
Directions
Heat oven to 350. Butter the tart dish well. Arrange cherries in the bottom of the dish. Don't pack them in, leave some spaces for the batter to get around them all. In a small bowl, mix flour, salt and sugar. Set aside. In a bigger bowl, mix eggs and milk. Cut vanilla bean longways and scrape out the insides into the egg mixture. Gradually stir the flour mix into the egg mixture. Pour batter over cherries. Bake at 350 until set and golden. About 60 minutes.
Clafouti is traditionally served at room temp. It's great that way. It was also great cold, right out of the fridge for breakfast.
Categories: Breakfast, Cobblers, Desserts, Egg Dishes, Entertaining, Gourmet, Other Desserts, Puddings & Custards, Tarts
Tags: French
Submitted by: rurification on July 17, 2012