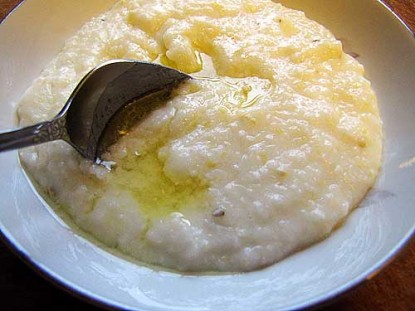 Difficulty: Easy
Servings: 4
Prep Time:
5 minutes
Cook Time:
1 hour 10 minutes
Ingredients
1 cup stone-ground grits
2 cups boiling water
2 cups heavy cream
salt and butter to taste
Directions
Wash and drain the stone-ground grits, skimming the chaff. Bring two cups of water and two cups of heavy cream to a boil. Add the salt. (I use about a teaspoon. Adjust this to taste.) Add the grits, stirring well with a whisk. Turn the heat to simmer (lowest you can go on your stovetop) and cover the pot. Let simmer for 1 hour and 10 minutes (at least) or until thick and creamy.
When finished cooking, add a couple tablespoons (more or less, to taste) butter or margarine, or add a little pat on top of each serving.
To make stone-ground grits the "regular" way, use 4 cups of water instead of part heavy cream and cook for 40-45 minutes on low.
Categories: Beans, Grains & Rice, Breakfast, Budget, Entertaining, Gourmet, Old-Fashioned, Other Side Dishes
Submitted by: suzanne-mcminn on May 4, 2011