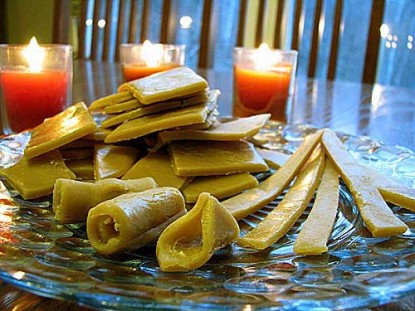 Difficulty: Easy
Servings: varies
Prep Time:
5 minutes
Cook Time:
15 minutes
Ingredients
1 cup of butter
1 cup of brown sugar, packed
1 teaspoon vanilla
Directions
Melt butter in a cast iron pan over medium-low heat. Add brown sugar. Continue to cook, stirring constantly, for 15 minutes, increasing the heat to medium, as sugar gradually blends with the butter. At first it looks as if the butter is separating from the brown sugar. Keep cooking and stirring non-stop–the butter and brown sugar will meld together as the mixture thickens.
Be careful not to overcook and burn it–you should finish with a nice, rich caramelized color. In the last few minutes, stir in the vanilla. You can spoon or pour small amounts onto waxed paper for individual candies, or pour the whole pan out and cut the individual pieces apart later. Butter the waxed paper very lightly to prevent sticking before pouring the candy out. You could even let it set up right in the cast iron pan.
After it's firm but before it's competely set, cut it into pieces. Store in an airtight container.
Categories: Candy
Submitted by: suzanne-mcminn on November 29, 2010