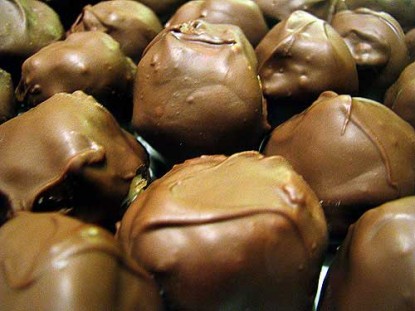 Difficulty: Intermediate
Servings: dozens
Prep Time:
4 hours
Cook Time:
none
Ingredients
1 1/2 cups finely chopped pecans
1/4 cup bourbon
1/2 cup butter, softened
1 tablespoon vanilla
1 teaspoon salt
1 14-ounce can sweetened condensed milk
2 pounds plus 2 cups powdered sugar
1 1/2 pounds chocolate candy coating, melted
Directions
Soak pecan in bourbon three hours or overnight. In a large mixing bowl, beat butter, vanilla, and salt until fluffy. Gradually beat in sweetened condensed milk. Stir in pecan mixture and powdered sugar until well blended.
Once you stir all the powdered sugar in, shape into 1-inch balls. Place on baking sheets. Chill until firm. I actually just stuck them in the freezer to speed things up, then piled them up in gallon-size plastic baggies until I was ready to coat them.
Melt chocolate coating and drop the balls in the pot one at a time. This is where it helps if the balls are frozen and therefore very firm. I used a toothpick to draw them out of the chocolate and set them on parchment sheets to set.
Store covered at room temperature or in the refrigerator. (Tip: These are a great make-ahead gift when you can because they taste even better when allowed to "age" for two weeks.)
Categories: Candy
Submitted by: suzanne-mcminn on November 29, 2010