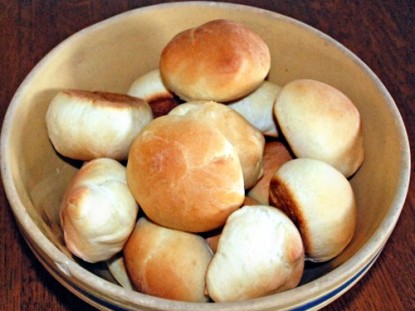 Difficulty: Easy
Servings: 12-18 rolls
Prep Time:
Depends on your bread machine. Rising time is 40 minutes.
Cook Time:
12 minutes
Ingredients
1 cup Water (lukewarm)
1 Egg
2 Tbsp. Butter or Margarine
3 1/4 cup Flour
1/4 cup Sugar
1 tsp. Salt
3 tsp. Yeast
Directions
Use the Dough cycle on your bread machine. Add ingredients in order as listed.
Divide, shape and place onto a large cookie sheet. Let rise 40 minutes.
Bake 12 minutes @ 350°
Small rolls make about 1 1/2 dozen.
Larger rolls make about 1 dozen.
Categories: Bread Machine, Breads, Rolls
Submitted by: judyt on November 22, 2010