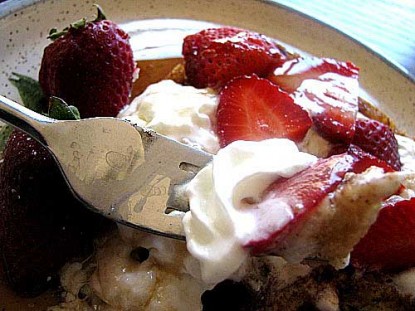 Difficulty: Easy
Servings: 6
Prep Time:
10 minutes
Cook Time:
10 minutes
Ingredients
thick-sliced bread
6 ounces softened cream cheese (plain or strawberry-flavored)
butter
5 eggs
2/3 cup milk
1/4 flour
1/2 cup sugar
1/2 teaspoon vanilla
1 teaspoon cinnamon
powdered sugar
whipped cream
sliced strawberries
maple syrup
Directions
Using thick slices of bread, cut a pocket into the top of each slice. With a butter knife, stuff each pocket with cream cheese. Stack up your stuffed slices.
Whisk eggs, milk, flour, sugar, vanilla, and cinnamon in a medium-sized bowl. Soak slices one at a time, on each side, in the egg/milk mixture, then fry lightly on each side in hot butter. I like to dash some extra cinnamon-sugar on top while it's cooking. Transfer to a plate.
Top with powdered sugar, whipped cream, and sliced strawberries then load on the maple syrup! This recipe makes enough for approximately six slices.
Categories: Breakfast, Griddles
Submitted by: suzanne-mcminn on June 20, 2010